Careers
Tips to Rock Your Virtual Job Interview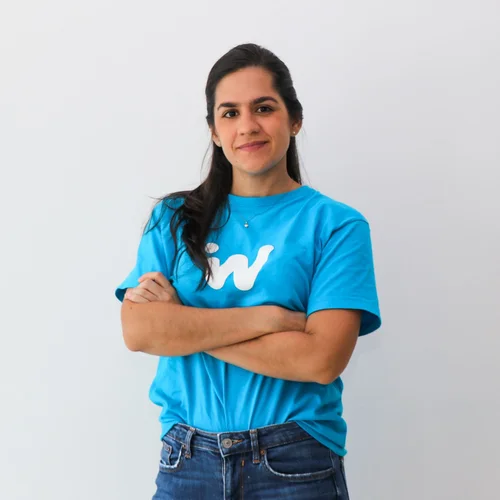 Rebeca G.
Talent Acquisition Manager
Posted on August 5, 2020
Before we go to a Job interview, there are a number of things that cross our mind regarding what to do before, during, and after to ensure that we make a good impression on our potential employer and get that longed-for job.
As a Talent Acquisition Manager, I like to assist the candidates throughout the entire hiring process. During the week, I conduct several virtual interviews and witness firsthand that when candidates feel unsure or nervous, it can undermine their potential employment. For that reason, I'm writing a post specifically dedicated to give you some tips that will help you out along the way.
Nowadays most teams are mixed, and many of them are remote, so, time is very valuable. As a nearshore software and web development company, Ideaware hosts 95% of interviews virtually.
If your interview is already scheduled, that means that you've passed the resume and profile overview. Great! Now you have the opportunity to meet face to face with your potential employer before the decision is made.
Get ready!
To start, the most important tip is to prepare yourself in advance. This is the key that will help you secure that job you are looking for. But, what to do first?
Focus on the little, but very important details:
Remember to review the description of the position you are applying for.
Update your knowledge of the company's history, know their mission, vision and values. It's also a great idea to check out their website page, app or social media, you could find a lot of material that will help you be more prepared.
If you have information regarding the project or the client you are going to be interviewing by, do some research on it as well.
Practice good manners and correct body language.
Prepare your workspace
The basic checklist:
Internet connection: It plays a vital role during and after the interview, at Ideaware we make sure our nearshore/offshore teams own an excellent internet connection since this is essential for remote working. We encourage you to check the quality of your service before the meeting.
Audio and Video-enable: Audio and video quality are essential, you want the conversation to be as fluid as possible. To be ready, pre-test the proper functioning of the audio and video.
Proper lighting: Soft, direct, daylight or non-yellow light is best. Keep your distance to the camera, but don't go too far. The ideal distance should be about an arm's length.
A quiet place: If you are taking the interview at home or in a coffee shop, choose a place as quiet as possible, free of interruptions. A quiet environment is fundamental to give the right answers and make the proper questions.
The background: Make sure your background is clean and uncluttered. Try to avoid any visual distractions during the interview. A white background is always a great option.
Proper attire: The formality of your outfit often depends on the job you are getting interviewed for, you can research the company's dress code or ask about it. As a general rule it's always wise to opt for neutral colors, choose clothes that make you feel comfortable and confident, we encourage you to use plain t-shirts or nice sweaters. Avoid revealing clothes. Keep it casual, but not informal.
Once you consider all the recommendations listed above, you will be set up for the interview!
You would think these tips are common for people who work from home, but you will be surprised how these simple details are forgotten from time to time, so keep in mind that getting this done will ensure your success.
Every interview is a chance to show what it is like to work with you and demonstrate who you are in a professional environment. In this scenario, the first impression matters and being prepared generates self-confidence, which will help you ROCK the interview.
Now that we have already talked about your set up, let's share some tips for a smooth and productive conversation that flows effortlessly with your interviewer. It's all about being professional at a high level!
How to handle the interview meeting
Punctuality, it is the first step to make a great impression, shows responsibility and professional work ethic. Being on time means you pay attention to details, proves that you do value other people's time and that you are a team player.
Show a happy mood and a positive attitude. Smile!
Be an active part of the conversation during the interview. To break the ice, you may start talking about topics that you are comfortable with, this will help you to get ready to present yourself.
Encourage yourself to ask questions to your interviewer, it will show you are interested.
Keep in hand your code repository, portfolio, projects and all the relevant work you have done, in case you are asked to show them. Let your achievements speak for you!
Be thankful for the opportunity.
The interview has finished, what's next?
You did it! Now, you may wonder, what to do after? Well, once the interview is done, it's perfectly ok to ask for the next steps and feedback. Interviews give you a chance to improve yourself as a professional. Receiving feedback and taking the time to review your own performance during the meeting will help you to acknowledge your strengths and work on your flaws.
Sometimes after having a job interview, getting an answer takes a little longer than expected. If there's a question you wish you had answered differently or a point you wanted to demonstrate, you can always keep in touch with the recruiter or interviewers to follow up on the process and clear up any doubts. Two positive things can happen, either you are the selected candidate, or you are half-way through the hiring process for further opportunities.
No matter how many tips or recommendations you read, it is normal to feel nervous before any interview. The idea of this post is to help you to not put too much pressure on yourself and to feel confident.
Visit our Careers Page for our open positions, perks and benefits. We want you to join our team, feel welcome to email us at hr@ideaware.co to apply for that position you have been waiting for!
Join 2000+ Founders and Developers crushing their businesses and careers with monthly advice. You can also follow us on LinkedIn , Twitter & Instagram!